Web Writer
Create simple, efficient reports that your customers will love.
Intuitive, efficient inspection software for everyone.
Web-based
Works on any platform
Backed up in the cloud
No syncing of data required
Easy to learn
This is YOUR web writer.
Created with our inspector community, inspectors drove the initial development and continue to choose the direction for the future.


Alpha release (Feb 2020)
We've been consulting with industry experts, collecting feedback from trade shows, our support team and from customers directly since late 2019. Beginning early February we began testing with focus groups in order to validate that we were on the right path with the foundations.

Beta early access (Summer 2020)
This summer we expanded access to the Web Writer to 90 inspectors for field use. This feedback was valuable in streamlining some of our workflows and optimizing each process to as few clicks as possible.

Mobile and Tablet support (Summer 2020)
With the core features pinned down we redirected focus towards ensuring that our web experience is consistent across laptops, tablets and mobile devices. This work will ensure that you can work seamlessly across devices in realtime without having to learn multiple variations of our applications.

Open beta (Dec 2020 – March 2021)
Starting in December we'll be rolling out the Web Writer to all of our users. Anyone with an active HomeGauge Subscription will be able to benefit from this brand new platform as well as our tried and tested Desktop Writer. All of your reports will be delivered to the same dashboard regardless of where they are created.
You'll be able to provide feedback directly within the application on what features you'd like to see next or how we can make things even better.

Version 2 and beyond (April – late summer 2021)
We'll be working hard to incorporate all of your great feedback from the open beta but here are some features that you can look forward to this summer.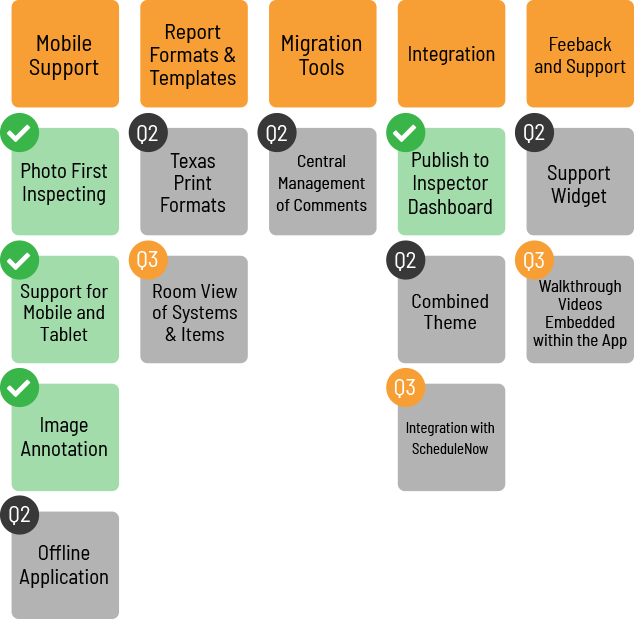 HomeGauge Inspectors have the choice of platform.
Our Desktop Report Writer is the gold standard for Inspectors, benefiting from 20 years of research & development. It is centered around the ability to customize every aspect of your reports and your business to suit your own needs.
Our new Web Writer is about speed and efficiency. A simpler experience means you can do more inspections in less time, and because it is web-based, you can take it with you anywhere.
| | | |
| --- | --- | --- |
|   | Desktop Report Writer | Web Writer |
| Create professional reports |   |   |
| Included in subscription |   |   |
| Available with legacy license |   | With Subscription or Services |
| Access to Support |   |   |
| Mobile ready |   |   |
| Android compatible |   |   |
| Apple iOS compatible |   |   |
| Tablet support | |   |
| Fully customizable | | |
| Custom report templates |   | Summer 2021 |
| Fast & easy | | |
| ScheduleNow integration |   | Summer 2021 |
| Extra Care |   |   |
| Real-time collaboration | | Summer 2021 |
| Improved comment management | | Summer 2021 |
| Enhanced mobile photo management | |   |
| Report transfer limit | 600Mb | Unlimited |
| Report size limit | 300Mb | Unlimited |
Phased rollout
Until today, this new tool has only been available for our private beta testers. As part of phased rollout that has already begun, all new and existing inspectors will be able to start using it.
Recent Web Writer bulletins…
Web Writer For All! Webinar #2 - Recap Thank you to all of you that joined our webinar on April 8th. We're proud to announce that our exciting new Web Writer is now available to all HomeGauge Inspectors! We held our most recent webinar to discuss report writing workflows and what it takes to transition from Desktop to Web Writer, if you so choose. We've created a PDF presentation for you from...
read more
What's going to happen with the Desktop Writer and how will HG continue to support it?
We will continue to support the Desktop Writer in addition to the Web Writer. We have a number of updates planned for the Desktop Writer in 2021. The focus for the Desktop writer updates will focus on reliability and compatibility. That said, the latest features and collaborative tools will only be available on the Web Writer.
What is the web-based report writer?
The Web Writer is the next generation of HomeGauge software. It is focused on saving even more time and giving you a fast way to develop a modern, professional report. This is a web-based report writer that works across all device types right in your web browser. The browser-based experience brings compatibility for everyone, and the new apps to be released in 2021 will bring offline support to the new platform as well.
Who is the Web Writer for today?
Web Writer is for anyone looking to try new software and new ways of working. Anyone who wants to shape the future of how the inspection industry works is welcome to participate. The ability to provide feedback is built in to the Web Writer, allowing you to report issues and make suggestions directly within the application. During the open beta phase, we will work to finalize some state-specific requirements to make it functional for inspectors in all parts of the country, and for those wanting to do commercial and RV inspections.
What states can it be used in?
Web Writer is available to all users regardless of state. We are aware of regulatory restrictions requiring specific report templates in Texas and Florida. We are working on Texas specific report templates and forms in Florida, which will be available in 2021.
Is this new tool faster than the desktop version I use today?
Yes, significantly faster. We have created a new photo first workflow which allows inspectors to take photos and apply them to items more quickly than ever before. We've also eliminated the need to synchronise data. If you're online, all of your comments, images, and disclaimers will be available across devices in real time.
When will I get access?
The rollout has begun. We're providing invite access to users in waves and expect every HomeGauge user to have access to Web Writer by the end of March 2021.
Can I do commercial and RV inspections with the current version?
The current version of Web Writer supports residential reporting out of the box. We're working on support for RV, Commercial, and a host of other variations in 2021.
Can I customize my reports?
At this time we are focused on speed and simplicity. One of the most complicated aspects of the current desktop experience is template customization. We plan to provide you with more options for customization and collaboration in our Web Writer in 2021.
What is a Beta?
Beta software is typically still under development and has not been released formally. In the case of HomeGauge we're providing early access to our Web Writer in order to get your feedback on how the various features should operate. We will be hosting regular webinars and focus groups to get your feedback over the coming months.
Will 360 Images be supported?
Yes, we absolutely plan to support multiple media types in our reports, including 360 video.
Do you plan on supporting drone videos?
We are currently investigating this as a future feature.
Can I add, edit comments?
Yes, you can already add and edit comments while conducting an inspection. In the coming weeks we will be adding a comment library which allows you to edit comments and disclaimers across the application.
Can I bring my templates across from the desktop writer?
We will support customization of print formats and report templates directly within the Web Writer. We are working with our support team to provide migration options for our users.
I was meant to be in the beta test group for this, what happened?
We have high demand for our Beta groups. While we make every effort to rotate users we cannot guarantee that all beta volunteers are included. We have prioritized Beta users in the early rollout waves of the Web Writer.
Can I adjust the order of the systems?
We are working on the ability for inspectors to adjust the print formats and associate them with inspection templates within the Web Writer. We will be hosting some focus groups and feedback sessions in the coming weeks to gather feedback on what inspectors would most like to be able to customize.
Will we have searchable fields vs dropdowns?
Yes, we're deliberately sharing our work early in order to gain valuable feedback from the experts (our users). Searchable fields are one of the great improvement ideas that have come from our customers.
Are there more print formats coming for the Web Writer?
Yes, initially we wanted to provide one clean print format for the Web Writer. We're planning on having support for versions of the Clarity, Classic, Texas and Florida specific print templates at the time of our official launch in the summer.
Later in the year we will allow inspectors to customize their own print formats and share them easily with their colleagues.
Can I easily distribute print formats across my organization?
Yes, later in the year we will allow inspectors to customize their own print formats and share them easily with their colleagues.
How can I get access?
We are in Wave 3 of our 6 step rollout. All HomeGauge subscribers will have access to the Web Writer by the end of March. You don't need to do anything, just watch out for an email with further instructions.
What states/countries can it be used in?
Web Writer is available to all users regardless of state, however those outside of the United States can't select their country/providence, yet. We are aware of regulatory restrictions requiring specific report templates in Texas and Florida. We are working on Texas specific report templates and forms in Florida, which will be available in 2021. We are also working on country/providence selection, as well.